Angel Nikole Bayless-Strauss



Ring Name

Angel

Height

5'3

Weight

90 lbs

Born

February 2, 1986 (age 26)

Billed from

The Jersey Shore

Resides

Tampa, Florida

Trained by

Cookie


Robbie E

Debut

October 7, 2010
Early Life
Growing up, Angel wanted to become a model, since she had the body for it. But, when she grew older, she changed her interests from model to wrestling, where she started training to become one during highschool.
Wrestling Career
Angel had made her TNA debut on the October 7, 2010 episode of Impact where her and Rebekkah Strauss, Robbie E and Cookie as Robbie E and Cookie were doing their promo as they insulted the crowd and some of the members of the Jersey Shore TV Show.
The weeks following, Angel and Rebekkah had started accompanying Robbie E and Cookie for their matches.
On the August 25 episode of Impact Wrestling, Angel had accompanied Rebekkah for her match against Katya Waters, where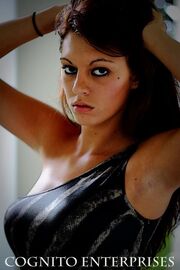 Rebekkah won.
On the September 8 episode of Impact Wrestling, because of his alliance with Robbie E, Angel and Rebekkah had alligned themselves with Rob Terry and started managing him.
At the Turning Point pay per view on November 13, along with Rob Terry and Rebekkah, Angel had helped Robbie E win the TNA Television Championship.
On the January 2nd Edition of Impact Wrestling Angel, Rebekkah and Rob Terry accompained Robbie E to the ring for his Title match against Kassandra Borden (Who had Zoey Jones and Savannah Szantyr in her corner) When her and Rebekkah tried to interfere Zoey and Savannah hit them with Let The Pigeons Loose.
Personal Life
Angel is the younger sister of former TNA Knockout Cookie.
On October 28, 2010, Angel and Robbie E had started a relationship.
On May 7, 2011 Angel and Robbie E were engaged. Angel and Robbie E had gotten married on December 3, 2011.
Sibling(s): Cookie (sister), Rebekkah Strauss (sister in-law)
Finisher(s)
Wrestler(s) Managed
Rebekkah Strauss
Rob Terry
Robbie E
Cookie
Entrance Music
Twitter Account
Angel's Twitter account is @AngelStrauss23. She uses it to talk to her friends and posts photos of her and Robbie E from time to time.