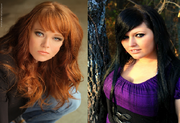 Brianna & Ashley

Members

Name(s)

Brianna & Ashley


Ashley & Brianna

Debut

June 21, 2010

Disbanded

July 15, 2011
Brianna and Ashley formed a tag team when they were in Nexus 2.0 back in June of 2010.
They had continued to team, even when they had left Nexus 2.0 when it was under the leadership of Tori Brooks and went to to join Vanessa Bennett and formed Corre 2.0 over on Smackdown.
They had won their first championship at Elimination Chamber as they had won the WWE Tag Team Championships off of Santino Marella and Vladimir Kozlov. They held the championships until loosing it to Haylie Trudel and The Miz. When they lost the championships, they envoked their rematch claus and won the titles back. They kept the titles until losing them to David Otunga and Michael McGillicutty.
After Corre 2.0 had disbanded, Ashley and Brianna had continued to team up until July 15 where Ashley had said that Brianna was 'holding her down'.
Finishing MovesEdit
Brianna's Finishing Moves
Kicking Africa (scissors kick)
Ashley's Finishing Moves
Virginia Bomb (powerbomb)
Title Reign(s)/Accomplishment(s)Edit
2 time WWE Tag Team Champions
Entrance MusicEdit
Glory by Hollywood Undead