Casey Danica Varon



Height

5'7

Weight

101 lbs

Born

September 12, 1984 (age 27)

San Bernardino, California

Billed From

San Bernardino, California

Resides

Tampa, Florida

Trained by

Tara

Debut

June 21, 2009
Early LifeEdit
The thought of being a professional wrestler, like some of her siblings, had never crossed Casey's mind. She was always wanted to be a cheerleader, and started pursuing that when she started highschool. In her graduating year, she got an offer to be a part of the San Diego Chargers cheerleading team, when Casey accepted. She'd been a part of the the team for eight years, before starting an interest in wrestling and trained to become one when she wasn't on the road with the Chargers. She'd left the squad in 2008 to concentrate on her wrestling training.
Wrestling CareerEdit
Casey made her wrestling debut in TNA as a tweener at their pay-per Slammiversary in 2009 where she was in a match with Angelina Love, which Casey lost when Savannah Szantyr sprayed hairspray in her eyes. On the May 7, 2009 episode of Impact! Casey faced off against Brooke Simmons, where Casey lost. On the May 14 episode of Impact, Casey was revealed to be Brooke's mystery partner in her match against Miranda James and Kyla Morgan, where Casey and Brooke won the match. After the match, Casey and Brooke were an official tag team, making Casey a full heel.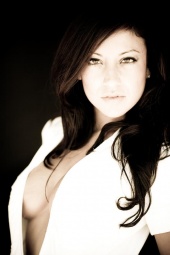 On the April 26, 2010 episode of Impact! Brooke and Casey won a two-on-one handicap match against
Taylor Roode
. On the May 28 episode of Impact! Casey had tried to help Brooke in her match against
Rebekkah Strauss
, but Rebekkah won the match. After that match, Brooke attacked Casey, thus ending the tag team and making Casey face.
After that, Casey had mainly wrestled on Xplosion, while appearing on Impact Wrestling from time to time.
Personal LifeEdit
Casey is the younger sister of Tara. Casey has a small tattoo of three hearts: one coloured red, one coloured green and one coloured purple on her lower back.
Sibling(s): Tara (sister)
Finisher(s)Edit
Octopus Hold
Cloverleaf with armlock
Springboard dropkick
Tag Team(s)/Stable(s)Edit
Entrance MusicEdit
Twitter AccountEdit
Casey's Twitter account is @Casey123. She mainly uses it to talk to her fans and posts photos.