Crystal Janice James DiBiase



Ring Name:

Crystal DiBiase

Height

5'5

Weight

121 lbs

Born

May 2, 1990 (Age 21)

Montpelier, Virginia

Billed From

Richmond, Virginia

Resides

Orlando, Florida

Trained By

Mickie James

Ted DiBiase Jr.

Debut

January 29, 2007
Early LifeEdit
Crystal is the older twin sister of Miranda James. While growing up her and Miranda got away with almost everything because they looked alike. Crystal got involved in wrestling in her freshman year of highschool and quit school before her sophmore year.
Wrestling CareerEdit
Crystal and Miranda debuted on Raw on January 29, 2007 as back up for their older sister Mickie in her rivalry against Melina. After that rivalry ended Miranda and Crystal got into a feud with Tori Brooks and Isabelle Crawford for a couple of months.
After that rivalry ended Crystal turned heel and Miranda remained a face and the two sisters feuded for a couple of months until Miranda got drafted to Smackdown and Crystal remained on Raw. After the rivarly, Crystal hadn't appeared on Raw, and only was wrestling the dark matches here and there until she started competing on WWE Superstars in 2010. Superstars was where she turned face when she faced off against Isabella a few times. Because of her run on Superstars, she'd started to appear more on Raw, but not as much.
On January 24, 2012, Crystal's profile on WWE.com was moved to the Smackdown section, thus moving her to Smackdown.
On the January 27 edition of Smackdown Crystal was spotted accompanying Ted DiBiase for his match against Hunico.
Personal LifeEdit
Crystal is the older twin (but older than 4 minutes) to Miranda James and younger sister of Mickie James.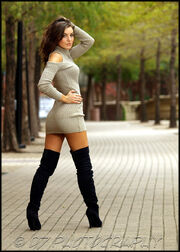 On June 21, 2008 Crystal had started a relationship wtih Ted DiBiase Jr. Around late September 2011 rumours had started flying around that Crystal and Ted were engaged because Crystal was spotted wearing what looked like an engagement ring. On September 26, 2011 Crystal confirmed the rumours were true. Crystal and Ted are planning to get married on March 10, 2012. On March 10th Crystal and Ted had a small wedding and got married.
Sibling(s): Mickie James (Sister), Miranda James (Twin Sister) Olivia DiBiase (Sister In Law), Brett DiBiase (Brother In Law), Mike DiBiase (Brother In Law)
Finisher(s)Edit
Tag Team(s)/Stable(s)Edit
Miranda and Crystal (2007-2008)
Wrestler(s) ManagedEdit
Entrance MusicEdit
London Bridge (Oh Snap) by Fergie (Singles Theme 1)
Pump It by The Black Eyed Peas (Tag Team Theme w/ Miranda + Singles Theme 2)
I Come From Money by S-Preme (Used when going out with Ted DiBiase)
Twitter AccountEdit
Crystal's Twitter account is @CrystalDiBiase98. She only uses it to talk to her fans and posts updates.