Dawn Anna Barela

Dawn when she had her long hair

Height:

5'5

Weight:

125 lbs

Born:

August 18, 1986 (Age: 25) Los Angeles, California

Billed From:

Mexico City, Mexico

Resides:

Orlando, Florida

Trained By:

Mexican America, OVW

Debut:

March 17, 2011 (TNA)
Early LifeEdit
Dawn grew up wanting to be a model and was actually a good one but plans changed when her brother was getting serious about being a wrestler.
Wrestling CareerEdit
After high school Dawn debuted for Ohio Valley Wrestling when it was still a Developmental territory for WWE. In 2007 she traveled with the Smackdown Brand on weekends when they had their house shows. She mostly jobbed to Haylie Trudel and other Divas though. When OVW was no longer a Developmental Territory for WWE Dawn was released from her developmental contract but stayed with OVW until March 2011 when Jeff Jarrett discovered her and signed her to a TNA contract.
Dawn debuted on TNA Impact Match 17, 2011 when she helped Sophie, Sarita and Rosita attack the Fortune Sisters (Taylor Roode, Jessica Cox and Kalena Gerdelman) Afterwards she became apart of Mexican America at the same time. While Sarita and Rosita was the TNA Knockout Tag Team Champions Dawn held the TNA Knockout Championship for a month before losing it to Mickie James.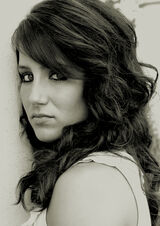 When Ink Inc. Brought in Toxxin and Ellie Moore. Dawn along with Sophie began a rivalry with them. While in the rivalry Dawn still has Mexican America's back.
Recently Dawn has been competing on Xplosion and managing her brother in OVW while Mexican America hasen't been seen on TV.
Personal LifeEdit
Dawn is the younger sister of fellow Mexican America member Anarquia. While in OVW Dawn was involved with Matt's (Anarquia) Old tag team partner Raul resulting in her son Colton. She is currently dating Hernandez.
Siblings: Anarquia (Brother)
Children: Colton Barela (Son)
Finishing Move(s)Edit
Tag Team(s)/Stable(s)Edit
Wrestler(s) ManagedEdit
Manager(s)Edit
Title Reign(s)/Accomplishment(s)Edit
1 Time TNA Knockout Champion
Entrance MusicEdit
Promiscuous by Nelly Furtado (Feat. Timberland) (Singles Theme 1)
Beat Goes On by Travis Barker (Feat. Cypress Hill) (Singles Theme 2)
5150 by F.I.L.T.H.E.E./ Brickman Raw (Mexican America Theme)
Twitter AccountEdit
Dawn's Twitter account is @DawnBTNA. She mostly uses it to talk to friends and fans and provide updates.