Haylie Elizabeth Trudel

Random photo of Haylie

Height

5'3

Weight

120 lbs

Born

April 15, 1987 (age 25)

Hometown

Long Island, New York

Resides

Long Island, New York

Billed from

Long Island, New York

Trained by

Long Island Wrestling Alliance (LIWA)


Florida Championship Wrestling (FCW)


Michelle McCool

Debut

September 11, 2007
Early Life
Haylie was born in 1987 in Long Island, New York. Haylie spent most of her life just trying to get through it each and every day. She got her interest in being a WWE Diva when she was eleven years old after seeing a Monday Night Raw episode and got hooked to it ever since.
Wrestling Career
After moving up from Florida Championship Wrestling (FCW) in September of 2007, Haylie made her debut on the Smackdown brand against Victoria in a winning effort. The next week, she won a tag team match where she tagged with Michelle McCool and they'd faced Victoria and Maryse.
Her first loss in a match came in December of 2007 as she faced Maryse.
On July 4, 2008, Haylie won a match where she was with a handful of Divas to earn the opportunity to face another Diva for the new Divas Championship that would be defended to the Smackdown Divas until the eventual champion would be drafted to either Raw or to (now defunctant) ECW brands. After learning that she would be facing Natalya at the Great American Bash for the title, Haylie went and won the match and became the first ever Divas Championship in her home state of New York.
She had a five month title reign before loosing the title to Maryse in December of 2008, sparking a rivarly between the two Divas, but it didn't official start because Maryse was sidelined with a dislocated knee. Until she would come back, WWE Creative had put her in a storyline where she was the manager of the tag team of The Miz and John Morrison for their matches and they would do the same for her matches. She had regularly appeared on their WWE.com show 'The Dirt Sheet', where she would embarrase them whenever she was on. That storyline ended when Maryse came back from her injury.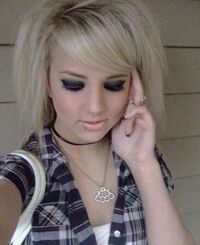 When Maryse did come back to Smackdown in late January of 2009, her and Haylie continued their rivarly, where they had a match for the Divas Championship (which was Haylie's rematch from their previous title match), and she won back the butterfly belt.
In the 2009 WWE Draft, she was tag teaming with Michelle McCool and Natalya as they were facing Kelly Kelly, Melina and Mickie James and the Smackdown team lost to the Raw team, resulting the Raw team getting a draft pick, which was Haylie being drafted to Monday Night Raw.
Two weeks after being drafted to Monday Night Raw, Haylie was pulled into two rivarlies: One with Raw Diva Tori Brooks and another with new Raw Superstar The Miz, but Haylie was more concentrated on her rivarly with The Miz, rather than Tori Brooks.
Week after week after week, Haylie and Miz were having match after match after match in various different stipulations, and that went on for a few months after that rivarly ended for the time being as she wanted to focus on defending her Divas Championship.
On February 23, 2010, she'd was picked to be a co-mentor on the first season of WWE NXT, where she would help Miz be the mentor to rookie Daniel Bryan, where she would be on the 'defensive' (as some people had placed it), whenever Bryan lost a match on NXT (or on Raw on a few occasions) and either Miz or someone else would come in and tried to beat up Bryan. Haylie was typically in the middle between the rivarly between Miz and Bryan.
Also during the 2010 year, Haylie was also pulled into a rivarly with Nexus 2.0, especially with their leader Vanessa Bennett where Nexus 2.0 was trying to have Haylie be a part of Nexus 2.0. Their rivarly ended at the 2010 TLC pay per view where Haylie faced off against Vanessa.
On June 8, 2010, Haylie was a mentor again on NXT, but this time, she was the mentor to her cousin Carson DellaRolla, which she led him to win that season.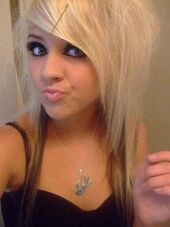 On September 7, 2010, she was once again picked as a mentor for NXT, but this time, it was for Krista Dumas, where she led her to win that season.
The weeks heading into the 2010 Night of Champions, Haylie was put into a rivarly with both members of LayCool, which would lead to them having a match to unify the Womens Championship and the WWE Divas Championship, which Haylie accepted, but lost to Michelle McCool at Night of Champions.
A week after Miz has won the WWE Championship via the Money in the Bank briefcase that he won earlier at the Money In the Bank PPV, Haylie challenged for the Championship in a ladder match, which she won, making her the youngest person to hold the WWE Championship.
On April 25, Haylie was drafted to Smackdown, carrying the WWE Championship with her.
She held the championship until the 2011 Money In the Bank pay per view where she had to drop the championship due to pregnancy.
On October 31st edition on Raw Haylie made an appearance in a backstage segment with Sydney and Miss. Piggy. She also accompained Sydney to the ring in her match against Cody but Haylie stayed out of the way due to her pregnancy.
At the Slammy edition of Monday Night Raw, Haylie made a ton of appearances during the broadcast, winning the 'OMG Moment' Slammy for winning the main event at Wrestlemania, 'Diva of the Year' Slammy and handed out the 'Biggest Tool' of the Year Slammy and the Superstar of the Year Slammy
Haylie also made an appearance at Tribute To The Troops handing out Presents to the troops out in the ring. She also accompained Brian to ringside darning his match.
Haylie made an appearance at the TLC pay per view as she was shown celebrating Daniel Bryan getting the World Heavyweight Championship via cashing in the Money in the Bank on the Big Show.
On the January 6th Edition of Smackdown it was announced that Haylie has been made Smackdown GM. She appeared in a backstage segment with Daniel Bryan and AJ And told AJ that she was in a match with new Smackdown Divas Miz's cousin Erin Reynolds and Alex Riley's cousin Rebecca Benjamin. She also appeared in a segment with Hannah Polito and asked Hannah to be her assistant and legal advisor and she accepted.
On the January 13th Edition of Smackdown Haylie put Hannah in a match with David Otunga because she told Otunga that her and Hannah will handle her Smackdown Superstars and that he should worry about the Raw Superstars with John Laurinaitis. Later on she accompained Brian to ringside darning his match but AJ joined them a few minutes later. When Big Show was running after Brian AJ pushed Hayle over and took the fall for her. While Brian argued with Big Show Haylie watched over after AJ while she was being taken to the hospital and thanked her for saving her and her unborn baby girl.
On the January 20 edition of Smackdown, Haylie had appeared in a segment after the Daniel Bryan/Mark Henry Lumberjack World Heavyweight Champion match with Bryan and said that he would be defending the World Heavyweight Championship against Henry and Big Show in a Triple Threat Steel Cage match at the Royal Rumble.
During the February 6 edition of Monday Night Raw that Haylie would be the honourary started for the 2012 Daytona 500. Later during Raw, Haylie had announced that because of the injuries that Sydney has from Kane, that Sydney would forfeit the IC Championship and that a battle royal would be held on Smackdown to be the new champion.
On the February 27th Edition of Raw Haylie along with Hannah was in Courtney's corner to support her in the Smackdown Rematch. When Laurinaitis got in the ring Haylie got in and pushed him down causing them along with David and Hannah to almost have a Brawl. Later on she appeared in a backstage segment with Laurinaitis and told him that she heard a rumor that he won't be running Raw next week. He told Haylie he heard a rumor she got fired. She told him that he's an horses ass before leaving. On Feburary 28th on WWE.com it was announced that for one week Haylie would be Raw GM and John Laurinaits would be Smackdown GM.
On the March 5th Edition of Raw Haylie along with Sydney came out to the ring to prevent John Laurinaitis and David Otunga from getting involved in the US Title match. Later that night She was involved in a backstage Segment with Randy Orton who told her that if he was in Bryan's place he would never hurt her like he's done before walking away.
On the March 9th Edition of Smackdown Haylie was getting ready for a match against John Laurinaitis when Randy Orton came in and offered to be her replacement telling her that he won't let her put her baby in danger and that he'll face Laurinaitis for her. Later that night when it looked like Haylie was going to face Laurinaitis she brought out Randy and he won the match for her. Later that night she was out in Randy's corner for the six man tag team match which he picked up the win. Afterwards when Haylie got in the ring to raise his hand and they smiled at each other before going to the back. Later on in a WWE.com exclusive she told the camera guy that her and Randy were just friends but since her and Bryan are 'appearantly' no longer together she said that 'Maybe the WWE universe will see The Viper and The Punk Diva as a couple.' Before winking at the camera and walking off.
On the March 12th Edition of Raw Haylie was seen backstage with Randy after the Josh/Dolph match talking to Randy how she can't deal with the hurt anymore. Randy told her that she knows what she has to do but whatever she choses he'll be there for her before the two hugged before he walked out for his match. Darning the Handicap match Haylie (Along with Sydney) walked out to the ring and pushed Laurinaitis down before celebrating with Hannah, Sydney and Randy in the ring after the beat down of David Otunga and Mark Henry. Later that night she accompained Randy for his second match against Jack Swagger. After the match she got in the ring and hugged him and Bryan called her out from the Sky box making her chose between him or Randy and Haylie got on the Mic and said that he's only making her chose because Randy is in the picture. She told Bryan that he can stay in the picture because she choses Randy before dropping the Mic. After she did Kane's pryo went off and Randy hugged her tightly while searching for Kane. After no sign of Kane the two went to the back.
On the March 16th of Smackdown she along with John Laurinaitis were guests on the peep show and Christian asked Haylie if he could have one more match and both her and Hannah yelled up yours. She then hi fived Hannah after Hannah said that Haylie and Sydney changed her for the better. Later on she was on commatary darning the Sydney/Otunga match which Sydney won after Hannah took David's belt from him. Later on Haylie was also seen talking to Randy before he went out to the ring to call out Kane.
On the March 19th Edition of Raw Haylie accompained Hannah to the ring darning her match with David Otunga. After the match which Hannah lost Haylie once again Pushed down Laurinaitis and her and Hannah ran up the ramp laughing. Later that night she accompained Randy out for his Promo which in addition to him talking about facing Kane he also talked about his feelings for Haylie a bit before posing and going to the back with her.
On the March 23rd edition of Smackdown Randy offered to be on Team Haylie in addition to his match against Kane and Haylie smiled and said that Miz or Daniel has never offered to to go out of their way to help her like he has so he's on the team. Later that night both her and Randy accompained The Great Khali to the ring for his match against Dolph Ziggler. After Dolph won with a distration Haylie gave Dolph until the count of 10 to get back in the ring or else and when Dolph didn't get back in the ring Khali won. After he did Hannah and Sydney ran out and pushed him in the ring as he got attacked by Khali then Haylie, Randy, Sydney and Hannah celebrated in the ring.
On the March 26th Edition of Raw Haylie accompained to the ring Randy for his tag team match. She also accompained Hannah for her match against David Otunga which she won and after the match when Hannah got on her hands and knees she pushed Laurinaitis into him. She later accompained the Great Khali to ringside for his match against Mark Henry which Mark won. After the match Laurinaitis pushed Haylie into the ring which caused Mark to almost attack her but was saved by Randy and Booker T. She later asked Booker to be the final member of Team Hayle and she accepted. Right after that in the back when Haylie was alone with Randy her waterbroke and he took her to the hospital.
It was announced that Haylie will be the GM for Raw after John Laurinaitis had been fired at No Way Out. It is still unknown whether or not she'll be the GM for Smackdown. On June 2, 2012, it was announced that Haylie would be participating in the WWE Championship Money In the Bank Ladder Match. She had lost the match. It was also announced that she wouldn't be the GM for Smackdown and she would be co-GM of Raw along with Danielle Eudy. On Raw 1000 Haylie made an appearance as she announced that Danielle would be the co-GM for the show. On the July 30 edition of Raw, Haylie, along with Danielle, had came out during the first segment with Cena, Show and Courtney and announced that Cena and Show would face each other in the main event and whoever won would face Courtney at Summerslam for the title. On the August 6 edition of Raw, she appeared in a segment with Daniel Bryan as she had told him that he would be facing Kane at Summerslam which the two went on to say 'Yes' and 'No' to each other before Daniel stormed off angrily. On the August 13 edition of Raw, Haylie was in the corner of the team of Danielle and Leah Johnson where they took on Eve and Beth Phoenix where Danielle and Leah won. Haylie also made an appearance on the show where she told Triple H that Brock Lesnar had dragged Shawn Michaels out of his car and took him somewhere.On the August 20 edition of Raw, Haylie went down to the ring and said to Del Rio, after he complained that he got robbed in his Heavyweight Title match against Josh, she said that she can't give him another title match or can't be involved with the Heavyweight title picture since that's Booker T's job. But, she can give him a match where she announced that he was going to be facing Orton.
On the August 27 edition of Raw, Haylie had announced that Courtney is going to be defending the WWE title at Night of Champions against John Cena. At Night of Champions, Haylie appeared in a backstage segment with Danielle where she told him that someone attacked her from behind, allowing them to injure her ankle, leaving her in doubt on whether or not she'll get to be in her Divas title match against champion Christina Cena. It was later determined that Danielle is unfit to face her and was replaced by Sydney. The next night on Raw, Haylie made an appearance at the beginning of the show where she made the 'super main event' for later in the broadcast where she paired up Courtney and Del Rio to face off against Cena and Josh.
Personal Life
During her years in FCW in 2005 and ended in early 2007, she was in a relationship with The Miz. After the first season of NXT, it was reported that her and Daniel Bryan were going out, which then a few weeks later Haylie herself confirmed. She is currently engaged to Bryan. When she was thirteen, Haylie was diagnosed with depression, but got over that a month before debuting in FCW. Haylie is currently inactive due to pregnancy. She and Brian are expecting their child by next April.
Haylie is very noted in being a big NASCAR fan, being a fan of NASCAR driver Carl Edwards, which the two are great friends ever since he was the guest host of Raw back in February of 2010. She was the grand marshal of the 2011 Samsung Mobile 500 at Texas Motor Speedway, and got the opportunity to celebrate in Victory Lane with eventual winner Matt Kenseth. Despite the 2012 Daytona 500 having a later start time at 7pm Monday evening, Haylie stayed to wave the green flag to start the race. Haylie was only there until the caution on Lap 2 before flying to Portland, Oregon for Monday Night Raw.
Haylie ended up being chosen to be the host of the 2011 NASCAR Sprint Cup Award Ceremony in Las Vegas, Nevada, where she said she had a great time there and enjoyed every minute of it.
On January 11th Haylie announced on Twitter that her and Brian are having a baby girl.
In March Haylie announced that she really did break up with Daniel Bryan and that she is dating Randy Orton. She also said that her baby girl would have Trudel as her last name.
On March 27th 2012 at 2:37 A.M. Haylie gave birth to Kyla Kirsten Trudel
Sibling(s): Josh Trudel (brother), Courtney Trudel (sister), Sabrina Biedka (sister in law), Chase Biedka (brother in law)
Cousin(s): Carson DellaRolla (cousin), Abigail DellaRolla (cousin)
Niece(s): Faith Trudel (niece)
Ring Name(s)/Nickname(s)
The Punk Diva (2007-present)
Finisher(s)
Surgical Free (drop kick to opponent hanging upside down on the turnbuckle)
Blonde Tornado (tornado DDT)
Tag Team(s)/Stable(s)
The Trudel Siblings ( with Josh and Courtney)
The Long Island Canadian (with Sydney and Hannah)
Wrestler(s) Managed
The Miz (in late 2008/early 2009)
John Morrison (in late 2008/early 2009)
Daniel Bryan (Till Early 2012)
Randy Orton
Sydney Copeland
Manager(s)
The Miz (in late 2008/early 2009)
John Morrison (in late 2008/early 2009)
Daniel Bryan (Till Early 2012)
Michelle McCool (in 2007)
Hannah Polito
Randy Orton
Title Reign(s)/Accomplishment(s)
1 time WWE Champion
1 Time WWE Tag Team Champion (With The Miz)
Accomplishment(s)
2011 Slammy Award Winner for 'Diva of the Year' (with Phoenix Sorrentino)
2011 Slammy Award Winner for 'Tell Me I Did Not Just See That' (for winning the main event at Wrestlemania)
Became Smackdown General Manager (January 6, 2012 - April 1, 2012)
Became co-Raw GM (July 2012 - present)
Entrance Music
Twitter Account
Haylie's Twitter account is @PunkDiva13. She uses it to talk to her friends, Randy, fans of WWE, posts photos of herself and updates her fans about what is going on.