Kyla Serena Morgan



Height

5'6

Weight

119 lbs

Born

February 14, 1985 (age 27)

Buffalo, New York

Billed From

Buffalo, New York

Resides

Fairfield, Connecticut

Trained by

Matt Morgan

Abyss

Crimson

Debut

August 7, 2008
Early LifeEdit
Kyla had a bad childhood growing up. Kyla was raised just by her father as her mother had left the family just two days after Kyla turned a year old. Three months after her mother left, her father had abused alcohol and drugs and started abusing her, which lasted until Kyla was sixteen years, where she moved out of her home and moved in with her older brother, which then she started training to become a professional wrestler.
Wrestling CareerEdit
Kyla had made her debut in TNA on August 7, 2008 as a face where she became valet for the tag team of Matt Morgan and Abyss. She was their valet until the end of their tag team run on the January 23, 2009 edition of Impact wherre at the end of their non-title first blood match against then-champions Beer Money Inc, Matt had turned on Abyss and started attack him, thus turning him heel and Kyla heel since she decided to continue managing him. When the rivarly between the two superstars started, Kyla would often be in the middle of their fights.
Kyla made her in-ring debut on the October 7, 2010 episode of Impact, where she'd teamed up with Miranda James to take on Brooke Simmons and Casey Varon, where Kyla and Miranda won. After the match, Kyla and Miranda were known as 'Rock N Roll Country' because of Miranda's country gimmick and Kyla's rocker gimmick.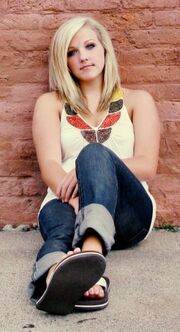 Miranda and Kyla began a feud with Brooke and Casey until Casey turned face after Brooke attacked her. After that feud ended the girls mostly wrestled on Xplosion but may go after Karen Jarrett and her girls soon.
Kyla still appears on Impact as Matt's manager.
Personal LifeEdit
When Kyla was one year old, her mother left the family, so Kyla was raised by her father. Three months after it happened, her father abused alcohol and started to abuse Kyla until she was sixteen, that was when she moved out and lived with her brother and started training to become a professional wrestler.
On October 27, 2008, Kyla had started a relationship with Matt Morgan.
The couple had gotten proposed just a year later on October 27, 2009. They had also gotten married in Florida a year later on October 27, 2010.
Finisher(s)Edit
Swinging neckbreaker-DDT
Boston Crab
Tag Team(s)/Stable(s)Edit
Wrestler(s) ManagedEdit
Matt Morgan
Crimson
Abyss
Entrance MusicEdit
Whispers in the Dark by Skillet (Singles Theme)
Dirty Little Secret by All American Rejects (Rock N Roll Country Theme 1)
Honky Tonk Badonkadonk by Trace Adkins (Rock N Roll Country Theme 2)
Sleeping Giant by 10 Fold (Used when going out with Matt)
Not a Stranger to the Danger by Dale Oliver (used when going out with Matt and Crimson)
Twitter Account

Edit
Kyla's Twitter account is @KylaMorgan12. She mainly uses it to talk to her fans and posts updates.