Mackenzie Jamie Massie



Height

5'7

Weight

112 lbs

Born

August 15, 1991 (age 20)

Montebello, California

Billed From

Montebello, California

Resides

Orlando, Florida

Trained By

Max Buck

Jeremy Buck

Debut

January 14, 2010
Early LifeEdit
Growing up, Mackenzie had looked up to her two older brothers Matt and Nick like idols and wanted to do everything like them, and that included becoming professional wrestler.
Wrestling CareerEdit
Mackenzie had debuted into TNA on January 14, 2010 as her brothers' valet in their match against the Motor City Machine Guns. After the match, she was her brother's valet from here on out.
Mackenzie's debut match wasn't until three weeks later against Samantha Brookshaw, where Mackenzie won with a suprise rollup. On September 5 at the pay per view No Surrender, Mackenzie turned heel along with her brothers as they'd attacked the Motor City Machine Guns while Mackenzie attacked their new valet Jasmine Harter.
On the November 11, 2010 episode of Impact!, Mackenzie had attacked Zoey Jones after her match with Brooke Simmons, which had sparked a rivarly between the two Knockouts. The rivarly had lasted until February 26, 2011 episode of Impact! a street fight was scheduled between Mackenzie and Zoey, where Zoey won but after the match Mackenzie had attacked Zoey so bad enough that Zoey had suffered from an ankle injury.
Starting in September of 2011, there were signs of a face turn from Mackenzie.
Personal LifeEdit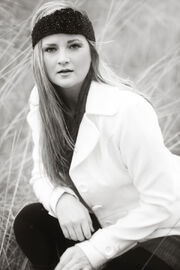 Mackenzie is the youngest sister of Max and Jeremy Buck.
Sibling(s): Max Buck (brother), Jeremy Buck (brother), Donajoi Massie (sister), Malachi Massie (brother)
Finisher(s)Edit
Aided Dropkick
Corkscrew Neckbreaker
Tag Team(s)/Stable(s)Edit
Generation Me (January 14, 2010 - July 10, 2011)
Ring Name(s)/Nickname(s)Edit
Wrestler(s) ManagedEdit
Entrance MusicEdit
Private Dancer by Danny Fernandes (Singles Theme)
Generation Me by Dale Oliver (Used when going out with Generation Me)
Twitter AccountEdit
Mackenzie's Twitter account is @MackenzieBuck. She uses it to posts photos of her and posts updates about her.