Madison Angel Johnson-McMurray



Born

December 7, 1987 (age 24)

Relationship Status

Married to Jamie McMurray

Hometown

El Cajon, California

Resides

Concord, North Carolina

Job

N/A
Early LifeEdit
Madison is the younger sister of Jimmie Johnson, and despite a twelve year age difference between the two, they are considerably close.
Madison was known as a nerd growing up, she would get perfect or near perfect on anything, either in academics, or athletics, where Madison would play soccer, lacrosse and ice hockey.
Madison graduated from highschool as a valedictorian. She also recieved a scholarship to the University of California, which then Madison took the opportunity and got herself a Master of Health Administration.
For the rest of the 2008 NASCAR season and for the whole 2009 NASCAR season, Madison only spent only the important races (to her) on the NASCAR schedule, which were the Daytona 500, All-Star race, Coca-Cola 600, the two races at California (the ones at Auto Club Speedway and the annual road course in Sonoma, California) and the final race of the season at Homestead-Miami Speedway becuase she didn't want to be spending her time on the road for the whole 10 month season becuase she thought it would tire her out a bit just as like a fan watching the action.
Personal LifeEdit
Madison is the younger sister of Jimmie Johnson, who she is considerably close to.
It was at Auto Club Speedway in 2009 where Madison had met Jamie McMurray. Those two had hit it off like fireworks. They were hanging out whenever Madison was at a track, before asking her out at the final race of the 2009 season at Homestead-Miami Speedway.
On July 1, 2011, Jamie had proposed to Madison, which she accepted.
Madison and Jamie had gotten married on November 26, 2011
On November 25, 2010, Madison had given birth to her and Jamie's child, a daughter named Jennifer Emma.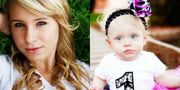 It was confirmed on Madison's Twitter on February 12, 2012 that Madison and Jamie are expecting their second child in November. Madison had unfortunately stated on Twitter on March 14, 2012, that she suffered a miscarriage due to suffering from food poisioning.
Siblings
Jimmie Johnson (brother)
Chandra Johnson (sister-in-law)
Carmen McMurray (sister-in-law)
Nieces
Genevieve Johnson
Jasmine Johnson
Twitter AccountEdit
Madison's Twitter account is @Little5time48, where she uses it to posts photos of random things, and talk to her friends, and either fans of NASCAR, fans of Jimmie or fans of Jamie.