Samantha Annie Brookshaw



Height

5'5

Weight

127 lbs

Born

August 18, 1982 (age 29)

St Marys, Ontario, Canada

Billed From

Toronto, Ontario, Canada

Resides

Chicago, Illinois

Trained By

Traci Brooks

Gail Kim

Madison Rayne

Debut

September 1, 2011
Early LifeEdit
Growing up, Samantha wasn't all that interested in wrestling, but got influenced by her sister to be a professional wrestler. Samantha's been training to become one since she was eighteen.
Wrestling CareerEdit
Samantha had made her TNA debut on the September 1, 2011 episode of Impact Wrestling where she faced off against Rosita and lost. Later on in the evening, when Karen Jarrett was named the VP of the Knockouts Division, Karen had offered Samantha to align herself with her, Gail Kim, Madison Rayne and Brooke Simmons because they all think that Samanatha is going to be a great Knockout if she needed the proper training. Samantha had accepted.
On the December 8, 2011 episode of Impact Wrestling, Samantha was 'forced' to be put into a match with Gail Kim where she was supposed to 'lie down' so that Gail could get the one two three. Samantha didn't do that and actually put up a fight with Gail, before Madison intefered in the match, giving Gail the victory.
On the January 12, 2012 episode of Impact Wrestling Samantha teamed up with Gail Kim to take on Co VP Of the Knockouts Kassandra Jones and Makayla Bernier Samantha and Gail won after Makayla was 'Forced' to strike down Kassandra.
Personal LifeEdit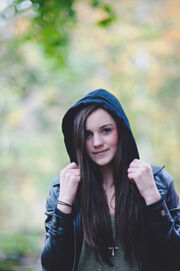 Samantha is the younger sister of Traci Brooks, which they were close growing up, but not that close. Samantha looks up to Traci like a role model when it comes to professional wrestling.
Sibling(s): Traci Brooks (sister)
Finisher(s)Edit
Wrestler(s) ManagedEdit
Entrance MusicEdit
Smile by Avril Lavigne (Singles Theme)
Killa Queen by Dale Oliver (Used when going out with Madison Rayne)
Unstoppable by Dale Oliver (Used when going out with Gail Kim)
Twitter AccountEdit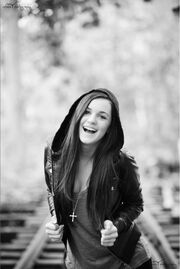 Samantha's Twitter account is @SamanthaBrookshawTNA. She mainly uses it to posts updates.